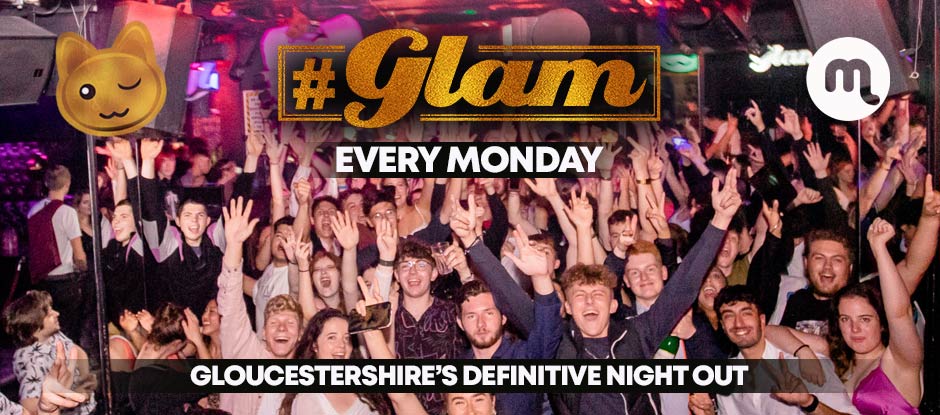 Glam Cheltenham
Gloucestershires biggest student events.
Every Monday at MooMoo and Popworld!
GAIN ENTRY TO BOTH VENUES FOR JUST £4!!
Prepare yourself for the Glam takeover and the UK's fully loaded night out experience.

Become part of the Glam Tribe at the UK's definitive weekly student events.
The finest event content blended with lavish weekly giveaways, event production and events. Allowing stylish, like minded, positive people to come together to fully immerse in the Glam world of forward-thinking weekly events!

—————————————————————————

WHAT TO EXPECT AT GLAM…
Gloucestershires biggest student events
THE UK's BEST CLUB TRANSFORMATION ✯
1000's OF FREE GLOW STICKS ✯
UV RAVE BATONS ✯
THOUSANDS OF LOLLIPOPS ✯
FREE LIMITED EDITION GLAM CAPS | T SHIRTS | LANYARDS! ✯
WIN GLAM VIP CARDS ✯
EXCLUSIVE GLAM BALLOONS ✯
LOADS OF FREE INFLATABLES AND XL INFLATABLES ✯
STUNNING EVENT PRODUCTION ✯
THE BIGGEST CONFETTI CANNONS ✯
CO2 CANNONS ✯
SPARK STREAM PYROTECHNICS ✯
HUGE LASER, UV AND LIGHT SHOW ✯
WIN VIP BOOTHS ✯
MEET GEORGE THE GLAM CAT MASCOT ✯
GET SNAPPED BY OUR PROFESSIONAL PHOTOGRAPHER ✯
CAPACITY EVENTS ✯
THE FINEST CROWDS ✯
THE GLAM TEAM INSIDE THE VENUE WITH SOME EXTRA SURPRISES ✯
LIVE GAMES AND LIMBO COMPETITIONS! ✯
UNRIVALLED ENTERTAINMENT ALL THROUGHT THE NIGHT ✯
—————————————————————————

DJ LINE UP

We also have the country's best resident DJ's every single week providing the widest range of soundtrack to please everyone!


Aura – Dance, Bass, D'n'B with DJ Chris Connor

Zinc – The Urban Selection with DJ LV

Pop – Indie, Party and Chart with DJ Nick Marshall
—————————————————————————

GLAM GROTTO

FREE TOAST

FRESH POPCORN

CRISPS

GLOW GIVEAWAYS

NOVELTIES

—————————————————————————

DRINKS DEALS


£2.50 Most Doubles and Mixers!
(10 premium spirit and mixers to choose from)

£1.50 Single and Mixers! (10 to choose from)

2 for £4 VK's, Smirnoff Ice, Carlsberg, Budweiser!

£1 Shots!

£1.50 Bombs / Tequila and Sambuca!
—————————————————————————

Birthday Week!? Bring your ID for Free Bubbly on arrival!
—————————————————————————

STAY CONNECTED

Gloucestershires biggest student events.
Every week on our social media we give away VIP packages, VIP Packages and Bottles of Bubbly, Glam merchandise plus lots more so… Stay Connected:

▷ Facebook:
GlamCheltenham
▷ Twitter:
GlamCheltenham
▷ Insta:
UKGlam
▷ Snapchat: UKGlam
▷ TikTok: UKGlam

http://www.glamfam.co.uk/






The Glam Team xx
For more information on Gloucestershires biggest student events
Contact Us